A place for anime lovers to vote and comment on their favorite anime series. Feel free to browse around and vote on your own favorite anime series. New anime series added every day!
Sora no Otoshimono's 3rd Anime Season Green Lit
Posted by: bestanimeseason on 2012-01-22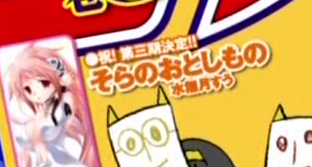 ---
Heaven's Lost Property's 3rd season listed in screenshot of ad
---
The Japanese publisher Kadokawa Shoten began airing a television commercial for the March issue of its Monthly Shōnen Ace magazine this past week, and a purported high-definition screenshot from the ad indicates that a third anime season of Sora no Otoshimono (Heaven's Lost Property) has been green-lit. The ad itself hints that the March issue will contain an "important announcement" for Sora no Otoshimono. The issue will go on sale on Thursday, January 26.
The two previous Sora no Otoshimono television anime seasons and film adapt Suu Minazuki's manga of the same name. The story follows a boy's life which is turned upside down by an angel falling from the skies. Crunchyroll streamed both of the television seasons outside Japan, and Funimation licensed both television anime series and the film for North America.
Source:http://www.animenewsnetwork.com/news/2012-01-22/sora-no-otoshimono-3rd-anime-season-listed